Call the show at 888-504-8805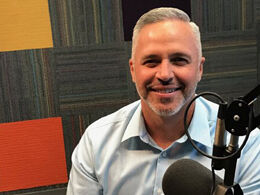 Abounding Grace Radio is a Christian Radio Broadcasting Ministry committed to historic Protestant Reformation theology and the message of salvation by grace alone through faith alone. We teach the gospel of Jesus Christ from all of Scripture as a witness to those who do not believe and to strengthen believers in the truth of God's Word. At Abounding Grace Radio, we desire that all listeners would come to know the saving power of the Lord Jesus Christ.
Show Links:
---
Rev. Christopher Gordon was ordained to the Ministry of the Word in October, 2004. Rev. Gordon is a native of Central California, and prior to answering God's call into the ministry, he was a high school Bible teacher in the central Californian valley. Rev. Gordon, having a love for Reformed theology, pursued further theological studies and received his Master of Divinity degree from Westminster Seminary in Escondido, CA, where he studied under such scholars as Drs. Michael Horton, W. Robert Godfrey, R.S. Clark, S.M. Baugh, David VanDrunen and D.G.Hart. He pastored at the Lynden United Reformed Church from 2004 to July 2012, and is presently Preaching Pastor at the Escondido United Reformed Church.